Saturday October 16, 2021, 8:30am-1pm
Live Music with David Falcone
4-H Cloggers at 11am
Free Cooking Demo at 10am in the Farmhouse Kitchen with Chef Neelma Patel
Free Farm Tour: Meet us on the Farmhouse front porch at 9:30am
Radishes also make beautiful centerpieces! 1895 Organic Farm brings you these amazing radishes, along with potatoes, sweet potatoes, peppers, onions, beets, carrots, butternut squash, greens and more ~
Make it a soup kind of weekend. Stop by Davidson's Mushrooms and pick up what you need for more delicious soups. In related news, The Soup Bar is back this week and offering mushroom, apple pumpkin and crab bisque, With just 3 weeks left to the regular season, you might consider stocking up ~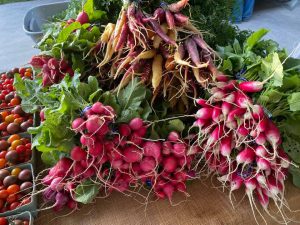 Pinelands Produce brings more and more each week…..because October is like that. Look for romaine & butterhead lettuces, cut lettuce mixes, microgreens, arugula, rainbow carrots, radishes, pie pumpkins, assorted hot and sweet peppers, cherry tomatoes, assorted winter squash, scallions, assorted kale, rainbow chard (limited) and baby Hakurei salad turnips.
Cheese Etc. & Gourmet Gifts is rolling out another seasonal cheese spread…. Smoked Porter! This spread is made with smoked Gouda and Morro Castle Smoked Porter from their friends at Forgotten Boardwalk Brewing. It's definitely a nice, savory, smoky cheese that pairs well with pretzels.
After being away for a few weeks, Fat Belly Bacon is back at the market! They will be stocked up on all their bacon varieties as well as ground maple bourbon bacon and their famous pork belly burnt ends.
The Rod Homestead is back this week with pesto, vodka sauce, romesco sauce, garlic butternut squash sauce, and dairy free pumpkin spiced coffee creamer. Be sure to look for it in their cooler section. They'll also have their market favorites ~seasoned salts, seasoned sugars and simple syrups.
Additional Prepared Food & Drink Vendors attending on Saturday:
Boheme Foods
CJ's Salsas
East Coast Empanadas NJ
GGC Healthy Paws
Harvest Coffee
Hoop House Cuisine
Jersey Pickles
Jim's Jarhead Jerky
Kelly Girl Bakery
MECHA Chocolate
Our Souls Shine
Peewee's Ice Cream
Tea For All
Wild Flour Bakery
Zed's Beer
Recklesstown Distillery
Crafters & Artists:
Green Cow Soaps
Frank's Sharpening
Scrub a lil' Deepa
Kittens Mittens
Ginger Stuart Furniture Design
Njeri Studio
Home Sweet Home
Wreaths by Joanne
Creek Breeze
Brenda's Pours
Handmade by Betty
Turnings by Woody
Lovecraft