Saturday October 30, 2021, 8:30am-1pm
This Saturday Live Music with Acoustic Explorer
Burlington County Board of Ag Women's Committee
Free Cooking Demo at 10am in the Farmhouse Kitchen with The Rod Homestead
Free Farm Tour at 9:30am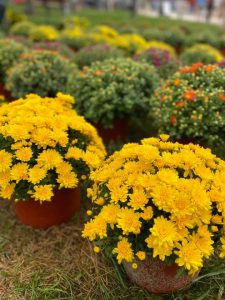 On this final day of the regular season, Bart's Flowers is running a mum special ~ 1 for $5 or 5 mums for $20.
We'll see Bart's again in December.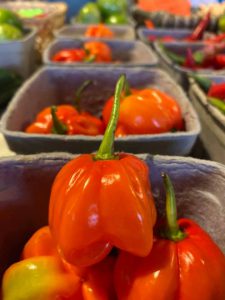 These beautiful habanero hots, along with 4 other types of hot peppers, carrots, sweet peppers, onions, beans, potatoes, eggplants and sweet potatoes can be found at 1895 Organic Farm! Stock up, until we see you again in November.
Cranberry Hall Farm is ending the season with their full line of beef products to freeze through the winter months ahead. Pick up ribeye, T-bone, NY strip, sirloin and chuck steaks, along with filet mignon, brisket and London broil. They will also have round, sirloin tip, chuck and bolar Roasts, short ribs, ground beef and beef patties.
The first of the season's cauliflower arrived last week at Robson's Farm. Pick up their freshly picked apples also, along with first of the season broccoli.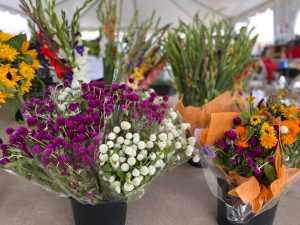 Beautiful bouquets on Durr Farm take us right through the end of the season. Pick up your last minute carving pumpkins, gourds ~ and all your squash needs. The last of the tomatoes will be at the market, along with Brussels sprouts, Lima beans, beets, onions and potatoes.
Mill Creek Apiary will set you up for the winter with their local raw honey, creamed raw honey infused with turmeric and ginger, raw honeycombs, honey samplers, honey candy and 100% pure beeswax candles.
Prepared Food & Drink Vendors attending on Saturday
Boheme Foods
East Coast Empanadas NJ
Fat Belly Bacon
Fishtown Pickles
GGC Healthy Paws
Harvest Coffee
Hoop House Cuisine
Jim's Jarhead Jerky
Kelly Girl Desserts & Pastries
The Keto Chef
MECHA Chocolate
Our Souls Shine
The Rod Homestead
The Soup Bar
Tis So Sweet Bakery
Tea For All
Wild Flour Bakery
Forgotten Boardwalk Brewing
Recklesstown Distillery
Crafters &
Artists
Green Cow Soaps
Frank's Sharpening
Scrub a lil' Deepa
Kittens Mittens
Kate Cipriani Fine Art
Ginger Stuart Furniture Design
Katherine Cheetham Glass
Woodcraft Creek
Controlled Burn Designs
Unicorn Tales
Maker's Workshop
Handmade by Betty
Rustic Arts
Njeri Studio
222 Creations