Bourbon Bread Pudding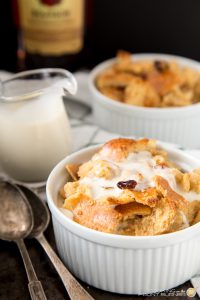 Bread pudding is a dish with very old roots. For most of human history, people could not afford to waste food, so sweet and savory recipes using stale bread were invented. Although the Romans did use eggs as binding agents, custard was not invented until the Middle Ages, so early bread puddings were probably made simply from milk, stale bread, fat and perhaps a sweetener. Today, we still love bread pudding, but our recipes tend to be far more luxurious than their humble origins.
Get hands on in our kitchen to prepare your bread and soaking base to make individual bourbon brioche bread puddings to take home and bake. We will taste a completed dish together in class.